The purple hue of a red cabbage is always the most striking piece on the dinner plate. Commonly, cabbage is braised or pickled, but it's great finely shredded in Autumnal salads and coleslaw.  Simply steamed, it can just about accompany most dishes.
Our biodynamic cabbages are grown by Toos in Cuckfield just north of Lewes tucked away at the leafy foot of the South Downs.
Red cabbage is packed full of vitamins (A, C, K), minerals and antioxidants, even eating it raw is said to provide a fantastic boost to ward off colds in this wintry season.
When shopping or harvesting a red cabbage from your garden, find the best cabbage – these will be the ones densely packed and heavy in weight with firm outer leaves.
Red cabbages are pretty hardy and are happy to be stored in the cool, dark place for a week to ten days without going rubbery.  Keep on a piece of kitchen roll to absorb condensation or moisture from the fridge.
Red cabbage tends to lose its colour when cooked. To keep it rich and gorgeous, just add a touch of apple cider vinegar in the cooking water to stop the lovely deep purple hue from running.
Now white cabbage is beautiful and shouldn't be ignored – sweet, lightly crunchy and earthy.  White cabbage benefits from uncomplicated cook techniques such as steaming or stir-frying and can even be its own recipe.
White cabbage deepens in flavour through the winter season as it loves our cold English soils – so should be a staple for stir fries, Colcannon and warming suppers.
Again, looking at the cabbage it should be heavy rather than light. The outer leaves should show no sign of bruising or variations in colour.
Steaming is a popular method because both texture and nutrients are kept intact.
White cabbage is the main ingredient in a traditional coleslaw, it can be used in healthier Asian coleslaws without dairy and with spicier dressings.  The meltingly soft texture is a natural partner for bacon.
Cabbage with Caraway & Bacon
White cabbage works perfectly with bacon.
Ingredients:
1/2 Biodynamic White Cabbage, shredded
1 tbsp caraway seeds
Method:
Cook smoked streaky bacon cut into narrow strips across the width of the bacon/ known as lardons in a little bit of Mestó olive oil, until lightly brown.
Add the caraway seeds and cook for another minute. Tip in the cabbage and stir for a few minutes to wilt.
Turn the heat down and cover the pan. Leave cooking for 5 minutes on a low heat.
To finish, season well, sprinkle with a little apple cider vinegar and freshly chopped parsley.
Another 3 Top Recipes: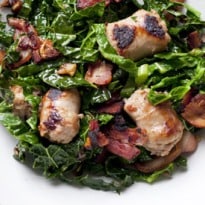 Nigel Slater:
Nigel Slater's Sausage Cabbage Stir Fry Recipe. A quick and easy fry up that includes a boost with some greens. See More >>>

Yotam Ottolenghi:
Cabbage and pearl barley soup with whipped feta for a more elaborate, sophisticated soup. See More >>> 
Nigella Lawson:
Nigella Lawson's Red Cabbage Recipe, great for supper with a little red wine spicing up the veggies. See More >>>
____________________________________________________________________________________________
Come and visit us at